Panhellenic Recruitment
Fall 2021 Sorority Recruitment
Please continue to watch this page for updates. (Last update 5/20/2021)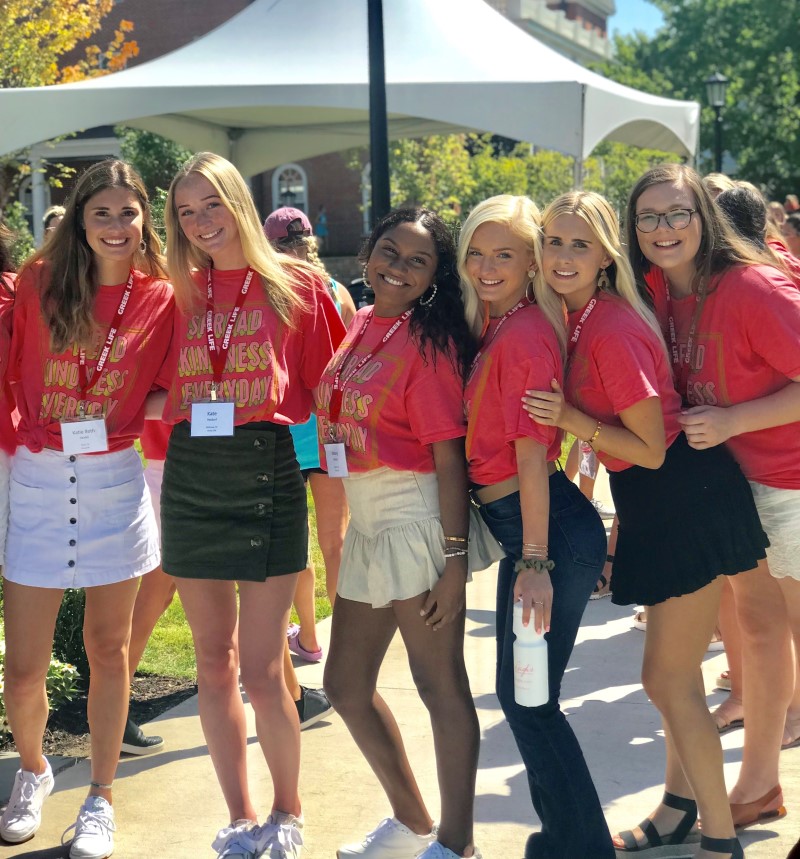 Panhellenic recruitment offers an opportunity to meet chapter members and peers, while learning what each sorority has to offer. Throughout the process, Recruitment Counselors (Gamma Chi's) will answer all questions that may arise while participating in recruitment. Participating in the recruitment process does not require a person to join a chapter, but enables her to explore and learn more about the campus and Greek community. This is a great way to meet new people and find out about different ways to get involved on campus. This process is intended to be a positive, fun, and enriching experience for everyone who participates.
Fall 2021 Schedule of Events
Early move-in:
Wednesday, August 11 (Adohi, Founders, Futrall, Holcombe, Hotz Honors, Humphreys, Maple East, Maple South, Maple West, Pomfret B, Pomfret D, Reid, Yocum. Additional charge of $30.)
Thursday, August 12 (Clark, Gatewood, Gibson, Gregson, Harding, Maple East, Maple South, Maple West, Morgan, Reid, Yocum, Duncan Avenue Apartments.)
Friday, August 13 (Reid.)
NOTE: Additional UA Housing charges will apply for early move-in (this fee is separate from the Recruitment Registration fee) and the fee will be billed to the student's UAConnect account.
Beginning in June, once students have registered for Sorority Recruitment, you will receive an email from University Housing that will allow you to pick an Arrival Time for one of the Early Move-In dates.
University Housing requests that students participating in Sorority Recruitment DO NOT pick an Arrival Time in the General Population student arrival time selection process, but to only use the Sorority Recruitment Arrival Time selection process. Arrival Times can be selected through the Student Housing Contracting Portal once Greek Life has notified University Housing that you are officially participating in Sorority Recruitment. All University Housing students participating in Sorority Recruitment are required to select an Arrival Time for move-in.
Sorority Recruitment:
August 13 - 21, 2021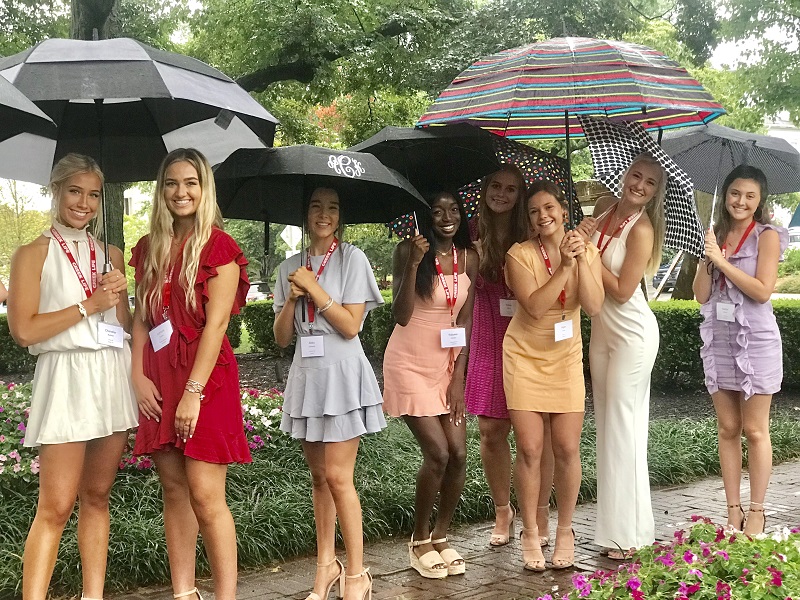 How To Register: (Updated 5/20/2021 - please read this section carefully and follow the directions through G) below. Changes have been made to the Resume, Essay questions, and the Video topic.)
Welcome to Recruitment 2021! We are extremely excited to know that you have expressed interest in joining a sorority at the University of Arkansas! Please read the following information thoroughly because you must agree to the following terms before submitting this application.
It will take 30-45 minutes to complete the registration form. In addition, you are only allowed to register "ONCE". If there are duplicate registration forms from the same person, Panhellenic reserves the right to use the first registration form completed within the system. So, please make sure your information is correct when registering.
THINGS YOU WILL NEED TO REGISTER:
1) A Laptop or Desktop should be used when registering.
2) Use the "Chrome" internet browser when completing your application.
3 ) Your Resume. Chapter members will focus heavily on this registration form. So, please be sure to list all extracurricular activities, honors, community service, and work experience. It is strongly encouraged that you have your resume available. Your registration form should mirror your resume. In addition, you are highly encouraged to upload a pdf copy of your resume as well.
4) Your High School Transcript or a Recent Grade Report Card. See Section "B" below.
5) A Most Recent Head Shot Photograph (i.e. Senior Pictures).
6) Your T-Shirt Size.
7) Payment by debit or credit card is required at the time of registration. Registration fee is non-refundable.
8) Essay: Please upload a Word document addressing the following questions. Please limit each response to 350 words or less. All five questions need to be answered. Be sure to include your name and hometown in the top right corner. Questions:
What is your course of study at the U of A and what do you plan to do after college with your degree?
Why are you interested in becoming a member of a sorority at the University of Arkansas?
What would you describe as your most unique or special skill/attribute?
Imagine you had an extra hour in the day; how would you spend that time?
Please share with us your goals and aspirations for the next four years.
9) Video: This year, we are requiring potential new members to upload a video to introduce themselves to chapters. In the video, please state your name and hometown. You should then describe something you are passionate about. Please keep this video to one minute. This video should be recorded on your phone and then uploaded to your registration application. Please click here to find more helpful tips before submitting your video. (Sample video)
10) All of these things must be submitted at the time of application. Once submitted, your application is final. You will not be able to edit, revise, add, and/or remove your application. Greek Life staff will not make any changes or additions to your application. (This section 10 was updated on 6/9/2021.)
11) Official Panhellenic Recruitment Application. Registration is closed.
OTHER HELPFUL TIPS REGARDING REGISTRATION:
A) SAT and ACT scores are required fields. If you did not take the SAT, put "0" for your score, and further down the form in the "Additional Information" box, type "I did not take the SAT."
B) Send your official transcript to the Admissions Office. This applies for women who recently graduated high school and for transfer students. Students who completed their freshman year at the University of Arkansas, and are participating in recruitment as a sophomore, do not need to send their transcripts to Admissions. The deadline for sending in transcripts is July 30, 2021.
C) Pay the non-refundable application fee online after you complete your online application (#11 above). The Recruitment fee is $230.00 if you register May 24 through June 30. On Thursday, July 1, the Recruitment fee increases to $240.00. The deadline for Recruitment registration is Thursday, July 15, 2021 at 11:59 pm CST.
OR mail your registration fee to the following address:
Office of Greek Life
1 University of Arkansas c/o Panhellenic Council
Walton Hall 101 Fayetteville, AR 72701
* Please make checks or money orders payable to Panhellenic Council. We're sorry, but we do not accept cash as a form of payment.
** Sorority applications will not be completed until the application fee is received.
D) Read the Panhellenic Recruitment Rules. (Updated 8/12/2021)
E) Information about where to meet for Recruitment Orientation in August will be emailed to you before Recruitment begins.
***Please note: Although you may register with your Local Alumnae Panhellenic Association for assistance with Letters of Recommendation, please keep in mind that you MUST register with the University of Arkansas Panhellenic Council to be considered eligible to participate in Recruitment 2021, including completing our Official Panhellenic Recruitment Application online (#11 above), as well as submitting a payment. The last day to register is July 15, 2021 at 11:59 pm CST.
If you do not receive an email confirmation stating you have registered with the University of Arkansas Panhellenic Council immediately upon completion of your online registration form and submission of payment, all potential new members are encouraged to contact our office at gogreek@uark.edu.
F) See More Information About Recruitment regarding Letters of Recommendation, Chapters, a sample resume, information for parents, and FAQ's.
G) Accommodations - The University of Arkansas is committed to providing access and reasonable accommodation in its services, programs, and activities. Accommodation requests related to a disability should be made in advance to Center for Educational Access (CEA) at ada@uark.edu or (479) 575-3104.
(Look Book updated July 28, 2021)
GO HOGS! GO GREEK! GO HOGS!
Follow Us:
Panhellenic Blog
Tweets by @UarkPanhellenic
Instagram
Questions or Concerns: If you have any questions or concerns, please e-mail us at gogreek@uark.edu or call 479.575.5001