Kappa Delta
501 W.
Kappa Delta
Zeta Gamma Chapter
404 West Maple Street
Fayetteville, AR 72701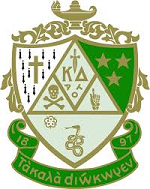 Nickname Kaydee
Philanthropy
Girl Scouts of America
Prevent Child Abuse America
GPA
Spring 2018: 3.517
Fall 2018: 3.535
Colors Olive Green & Pearl White
Mascot Teddy Bear
Flower White Rose
Symbols Nautilus Shell, Dagger, Pearl, and Diamond Shape
Date Founded October 23, 1897 at Longwood College
Established at U of A April 30, 1989
Famous Alumnae
Brooke Anderson, television host
Georgia O'Keefe, iconic American artist
Leigh Anne Tuohy, inspiration for the movie, The Blind Side
Patricia Polito Miller, co-founder of Vera Bradley
Cara Mund, Miss American 2018
Fun Fact Kappa Delta created International Girls Day, November 14, with the theme, "She Can Do Anything," to build confidence in girls and help them realize their potential.
Contact Information
Margaret Williamson, President
Alyssa Little, Vice President
Manda Varner, Recruitment
Send Recommendation Letters to
Manda Varner
501 W. Maple Street
Apt B1-103
Fayetteville, AR 72701
Our chapter requires one letter of recommendation, which can be submitted through the national Kappa Delta website. There is no minimum or maximum to the number of letters of support that can be sent.
Chapter Awards
Most Outstanding Panhellenic Woman 2017 - Olivia Lamke
Dancing with United Greek Council 2017 & 2018 - 1st place
Highest GPA Fall 2018
Sigma Phi Epsilon kickball tournament 2017 & 2018 - 1st place
Award of Excellence 2018