Kappa Delta
Kappa Delta
Zeta Gamma Chapter
404 West Maple Street
Fayetteville, AR 72701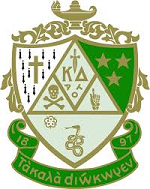 Nickname Kaydee, KD
Philanthropy
Girl Scouts of America
Prevent Child Abuse America
GPA
Spring 2023: 3.513
Fall 2022: 3.437
Colors Olive Green & Pearl White
Mascot Teddy Bear
Flower White Rose
Symbols Nautilus Shell and Dagger
Date Founded October 23, 1897 at Longwood University in Farmville, Virginia
Established at U of A April 30, 1989
Famous Alumnae
Camille Schrier, Miss America 2020
Leigh Anne Tuohy, inspiration for the movie The Blind Side
Donna J. Stone, founder of Prevent Child Abuse America
Jennifer Lee, writer and director of the 2013 Disney animataed feature Frozen
Cara Mund, Miss America 2018
Fun Fact Kappa Delta created International Girls Day on November 14 to celebrate girls. With the theme, "She Can Do Anything," it's a day to build confidence in girls and help them realize their potential.
Contact Information
Spencer Collins, President
Zoe King Davis, Vice President
Carrington Doyle, Recruitment
Send Recommendation Letters to
Kappa Delta chapters do not require any of the optional recruitment forms for a woman to be considered for membership. Recruitment forms can serve as a helpful introduction to the chapter and provide additional information about a potential new member (PNM). Having an optional recommendation does not guarantee an invitation of membership. If you wish to fill out one of the recommendation forms, follow the instructions at the link below and submit online, or mail it to the provided address.
https://kappadelta.org/alumnae-life/optional-recommendation-forms/
Kappa Delta
Carrington Doyle
404 W. Maple Street
Fayetteville, AR 72701
Attn: VP Recruitment & Marketing
(This information was updated on 4/12/2023.)
Chapter Awards
Panhellenic Award of Excellence 2018-2019
Panhellenic Outstanding Commitment to Service 2018-2019
National Kappa Delta Convention Recognition Award 2019
Panhellenic Spirit Week Award, 3rd Place - Fall 2019
Panhellenic Council Outstanding Panhellenic Woman 2021