Alpha Omicron Pi
Alpha Omicron Pi
Xi Omicron Chapter
712 W Maple Street
Fayetteville, AR 72701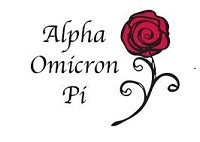 Nickname Pronounced A-O-Pi, written as AOII or Alpha O
Philanthropy National - Juvenile Arthritis Research. Local philanthropy - Counseling and Psychological Services (CAPS)
GPA
Spring 2023: 3.360
Fall 2022: 3.181
Colors Cardinal Red, Ambitious Pink, Confident Coral
Mascot Panda
Flower Jacqueminot Rose
Symbol Sheaf of Wheat, Ruby
Date Founded January 2, 1897 at Barnard College of Columbia University, NY
Established at U of A August 29, 2006
Famous Alumnae
Heather Whitestone, former Miss America
Courtney Kupets, double Olympic medalist and world champion gymnast
Sofia Vassilieva - actress (Eloise at the Plaza)
Brittany Allen - Final contestant on Project Runway
Alexa Jones - Miss Alabama 2005
Fun Fact We adopted our local philanthropy, Counseling and Psychological Services (CAPS) in 2017, with the start of our Annual Lane Marrs Memorial 5K! CAPS is right here on the Arkansas campus and is only a half mile from our big red front door!
Contact Information
Willow Ray, President
Hayzley Irwin, Vice President
Emily Schulz, Vice President of Membership Recruitment
Send Recommendation Letters to
While MIFs and recommendation letters are no longer required by our chapter for eligibility of membership, they are encouraged. They are a great way for our chapter to get to know PNMs prior to recruitment and identify women who are interested in Alpha Omicron Pi. Please visit https://www.alphaomicronpi.org/for-members/recommend-a-sister/ if you wish to submit a recommendation letter or MIF. If you have any further questions regarding MIFs or recommendation letters, please feel free to reach out to aoiixovpmr@gmail.com.
They can also be mailed to:
Emily Schulz
712 W Maple St.
Fayetteville, AR 72701
(This information was updated on 4/12/2023.)
Chapter Awards
Outstanding Executive Team, AOII National Convention 2022
Award of Excellence 2022
Excellence in Wellness and Safety, AOII National Convention 2021
Award of Excellence 2020
University of Arkansas Greek Life Sustainability Silver Rating 2019