Alpha Omicron Pi
Alpha Omicron Pi
Xi Omicron Chapter
712 W Maple Street
Fayetteville, AR 72701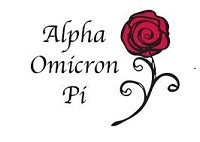 Nickname Pronounced A-O-Pi, written as AOII
Philanthropy Juvenile Arthritis Research, local philanthropy - CAPS
GPA
Spring 2018: 3.424
Fall 2018: 3.392
Color Cardinal
Mascot Panda
Flower Jacqueminot Rose
Symbols Sheaf of Wheat
Date Founded January 2, 1897 at Barnard College of Columbia University, NY
Established at U of A August 29, 2006
Famous Alumnae
Heather Whitestone, former Miss America
Debbie Matenopoulous, TV anchor
Courtney Kupets, double Olympic medalist and world champion gymnast
Natalie White, winner of Survivor: Samoa
Margaret Bourke-White, famous photographer
Fun Fact AOII is the largest sorority nationally by active chapters.
Contact Information
Cate Skinner, President
Anika Van Lieshout, Vice President
Emma Ethridge, Recruitment
Send Recommendation Letters to
This year AOII would like our recommendation letters to be filled out electronically on our national website! We do not have any official requirements for the number of recommendation letters, but we would like every PNM to submit one MIF (membership information form).
Go to http://www.alphaomicronpi.org/membership-information-form. Complete and submit as indicated. Or mail to:
Emma Ethridge
712 W. Maple Street
Fayetteville, AR 72701
Chapter Awards
University of Arkansas Exceptional New Member Program Award 2018
University of Arkansas 90-100% Retention Rate to Initiation Award 2017
AOII National Convention Excellence in Philanthropy Award 2017
AOII National Convention Excellence in Membership Recruitment 2018
AOII National Convention Excellence in Campus Involvement 2018