Chi Omega
Chi Omega
Psi Chapter
940 West Maple
Fayetteville, AR 72701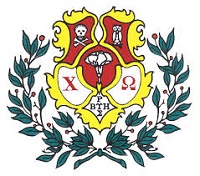 Nickname Chi-O
Philanthropy Make-A-Wish
GPA
Spring 2023: 3.625
Fall 2022: 3.578
Colors Cardinal & Straw
Mascot Owl
Flower White Carnation
Symbols Skull & Crossbones
Date Founded April 5, 1895 at the University of Arkansas
Established at U of A April 5, 1895
Famous Alumnae
Jo Johnson Overby (PSI), Lifestyle blogger and influencer
Harper Lee, author of To Kill a Mockingbird
Danyelle Musselman (PSI), Make-A-Wish board member, former sports anchor
Angela Kinsey, actress The Office
Maggie Benton (PSI), Miss Arkansas 2017
Fun Fact Chi Omega was founded right here at the University of Arkansas, and we just initiated our 400,000th member! Our sisterhood is the largest women's Greek organization in the world!
Contact Information
Bo Morton, President
Josie Stadler, Vice President
Linden Combs, Recruitment
Send Letters of Recommendation to
Our chapter encourages one Recruitment Information Form (RIF) and two letters of recommendation. RIFs (Recruitment Introductions Forms) may be sent via mail to the address above or electronically through https://everyday.chiomega.com/Special-Pages/Sign-In?returnurl=%2fMyRecruits Letters of recommendation can additionally be sent to the address below. If you have any additional questions regarding RIFS or letters of recommendation, you may email XOPsiRecruitment@gmail.com.
They can also be mailed to:
Linden Combs
940 W Maple Street
Fayetteville, AR 72701
(This information was updated on 4/12/2023.)
Chapter Awards
Josie Landrum and Arden Claire Noland, Chi Omega National Model Initiates 2023
Aleesa Williams and Abby Miller, Chi Omega National Model Initiates 2022
First in Grades for Spring 2022 and Fall 2022
Chapter of Excellence, Chi Omega national Convention 2022
Chapter of Excellence, Chi Omega National Convention 2020