Chi Omega
Chi Omega
Psi Chapter
940 West Maple
Fayetteville, AR 72701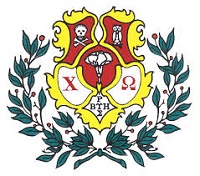 Nickname Chi-O
Philanthropy Make-A-Wish
GPA
Spring 2022: 3.596
Fall 2022: 3.578
Colors Cardinal & Straw
Mascot Owl
Flower White Carnation
Symbols Skull & Crossbones
Date Founded April 5, 1895 at the University of Arkansas
Established at U of A April 5, 1895
Famous Alumnae
Lucy Liu, actress Charlie's Angels
Harper Lee, author of To Kill a Mockingbird
Blanche Lincoln, youngest woman ever elected as a US Senator
Angela Kinsey, actress The Office
Catt Sadler, former E! news anchor
Fun Fact Chi Omega was founded at the University of Arkansas in 1895, and is now the largest women's fraternal organization in the world with over 335,000 initiates.
Contact Information
Bo Morton, President
Josie Stadler, Vice President
Linden Combs, Recruitment
Send Letters of Recommendation to
Our chapter encourages one Recruitment Information Form (RIF) and two letters of recommendation. RIFs (Recruitment Introductions Forms) may be sent via mail to the address above or electronically through https://everyday.chiomega.com/Special-Pages/Sign-In?returnurl=%2fMyRecruits Letters of recommendation can additionally be sent to the address above. If you have any additional questions regarding RIFS or letters of recommendation, you may email XOPsiRecruitment@gmail.com.
They can also be mailed to:
Campbell McCready
940 W Maple Street
Fayetteville, AR 72701
(This information was updated on 4/7/2022.)
Chapter Awards
Award of Academic Excellence, Spring 2018
Outstanding Commitment to Service, Spring 2018
Chapter of Excellence, Chi Omega National Convention 2018
Corrine Menz, Chi Omega National Model Initiate 2018
Chapter of Excellence, Chi Omega National Convention 2020