Alpha Delta Pi
Alpha Delta Pi
Delta Delta Chapter
519 North Oakland Ave
Fayetteville, AR 72701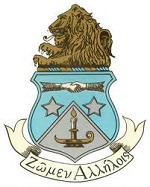 Nickname ADPi
Philanthropy Ronald McDonald House Charities
GPA
Spring 2018: 3.481
Fall 2018: 3.441
Colors Azure Blue & White
Mascot Lion
Flower Woodland Violet
Symbol Diamond
Date Founded May 15, 1851 Wesleyan Female College
Established at U of A 1957
Famous Alumnae
Kelli Finglass, Director of the Dallas Cowboy Cheerleaders
Emily Proctor, actress "CSI Miami"
Karen Fairchild, member of Little Big Town
Lauren Akins, Thomas Rhett's wife
Caroline Bryan, country music singer Luke Bryan's wife
Fun Fact Alpha Delta Pi is recognized as the first secret society for women. A sister from the University of Arkansas is credited for establishing the Ronald McDonald House as our International Philanthropy.
Contact Information
Suzanne Wright, President
Kaitlyn Puyear, Vice President
Carolyn Smith, Recruitment Chair
Send Recommendation Letters to
Veronica Adams
2006 Dee Avenue
Springdale, AR 72762
OR preferably online through: https://alphadeltapi.org/Members/Page/PotentialMemberRecommendation/
Our chapter requires at least one letter of recommendation online through https://alphadeltapi.org. We also require a form to be filled out for our legacies through the same website. This year, the chapter is trying to move completely to all electronic submissions, and we would prefer limiting letters of recommendation to 1-3 per PNM through the national website as opposed to mail.
Chapter Awards
Greek Sing , 1st Place - 2018
Three Diamond Chapter Award - 2018
Best Social Media Engagement Program in District V for 2018
Most Outstanding Alumnae Relations in District V for 2018
Best Chapter in District V for 2018