Alpha Delta Pi
Alpha Delta Pi
Delta Delta Chapter
519 North Oakland Ave
Fayetteville, AR 72701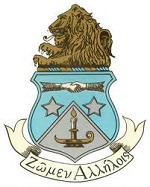 Nickname ADPi
Philanthropy Ronald McDonald House Charities (RMHC)
GPA
Spring 2021: 3.568
Fall 2020: 3.535
Colors Azure Blue & White
Mascot Lion
Flower Woodland Violet
Symbol Four-pointed Diamond
Date Founded May 15, 1851 Wesleyan Female College
Established at U of A 1957
Famous Alumnae
Kathy Bates, actress American Horror Story, Waterboy, Titanic, The Office
Kelli Finglass, Director of the Dallas Cowboy Cheerleaders
Emily Proctor, actress CSI Miami, The West Wing
Lauren Akins, Thomas Rhett's wife
Karen Fairchild, country singer - member of Little Big Town
Fun Facts Our University of Arkansas chapter established Ronald McDonald House Charities as ADPi's international philanthropy! Our house is a registered historical landmark, built in the 1930's (not including the new addition). Originally called the Adelphean Society, Alha Delta Pi is the first secret society for women in the world and forged the way for women in the fraternity system.
Contact Information
Brittany Willis, President
Anna Kerstetter, Vice President
Karissa Kruse, Recruitment Chair
Send Recommendation Letters to
The chapter of Alpha Delta Pi encourages al least one letter of recommendation. Our recommendation process is entirely online this year. Letters of recommendation can be submitted through our national website: https://alphadeltapi.org. Please submit the forms as directed.
(This information was updated on 3/25/2021.)
Chapter Awards
Greek Sing , 1st Place - 2018 and 2019
Greek Step Competition, 1st Place - 2019
Delta Gamma's Anchor Splash, 1st Place - 2019
Youth in Philanthropy Organization Award - 2019
Alpha Chi Omega's Volleyball Tournament, 1st Place - 2019