Alpha Chi Omega
Alpha Chi Omega
Delta Rho Chapter
722 W. Maple Street
Fayetteville, AR 72701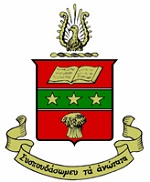 Nickname Alpha Chi
Philanthropy Domestic Violence Awareness
GPA
Spring 2023: 3.508
Fall 2022: 3.372
Colors Scarlet Red & Olive Green
Flower Red Carnation
Symbols Golden Lyre
Date Founded October 15, 1885 at DePauw University in Greencastle, IN
Established at U of A December 2, 1961. Recolonized November 10, 2012.
Famous Alumnae
Dr. Condoleezza Rice - second female and first African American US Secretary of State
Alyson Hannigan - actress in How I Met Your Mother and Buffy the Vampire Slayer
Wally Funk - First female FAA and NTSB inspector, one of the Mercury 13, oldest woman in space as of July, 2021
Hannah Brown - reality TV star most known for The Bachelorette and her appearance in The Bachelor, who went on to become a Dancing with the Stars champion
Agnes Nixon - American TV writer and producer and creator of the ABC soap operas One Life to Live and All My Children, rated in the top 10 best soap operas of all time.
Fun Fact The "It's On Us" national campus campaign against sexual assault was brought to the University of Arkansas by a former Alpha Chi Omega, Delta Rho Chapter president. Each year, Greek Life hosts an "It's On Us" week to open up the conversation on sexual violence - all thanks to one brave and passionate Alpha Chi Omega sister.
Additional Information
Tagline: "Real. Strong. Women."
Motto: "Together Let Us Seek the Heights"
Contact Information
Sydney Ward, Chapter President
Lily Wright, Vice President
Natalia Lopez, Recruitment
Send Recommendation Letters to
Delta Rho chapter of Alpha Chi Omega does not require recommendations, but if you know an alumna who wishes to write you a recommendation, they may do so by following the link provided using their Alpha Chi Omega login. Having an optional recommendation does not guarantee an invitation of membership. If you wish to fill out one of the recommendation forms, follow the instructions at the link below once you sign in, and submit online. Or you can mail/email it into the provided addresses if you prefer paper or via electronically.
https://my.alphachiomega.org/Reccomend
Lucy Jean Church
722 W Maple Street
Fayetteville, AR 72701
arkansasaxo.vpri@gmail.com
(This information was updated 4/12/2023.)
Chapter Awards
2020 Greek Sing Champion
2018 - 2019 Award of Excellence
2018 - 2019 Greeks Give Back Award
2018 - 2020 Panhellenic Spirit Award
2018 Youth in Philanthropy Award