Alpha Chi Omega
Alpha Chi Omega
Delta Rho Chapter
722 W. Maple Street
Fayetteville, AR 72701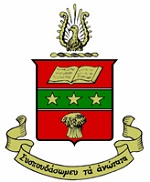 Nickname Alpha Chi, A Chi O
Philanthropy Domestic violence Awareness, education and prevention
GPA
Spring 2018: 3.334
Fall 2018: 3.300
Colors Scarlet & Olive Green
Flower Red Carnation
Symbols Golden lyre
Date Founded October 15, 1885 at DePauw University in Greencastle, IN
Established at U of A December 2, 1961. Recolonized November 10, 2012.
Famous Alumnae
Dr. Condoleezza Rice, former US Secretary of State
Alyson Hannigan, actress in How I Met Your Mother
Trista Rehn Sutter, the original Bachelorette
Melissa Rycroft, Dallas Cowboys Cheerleader and Dancing with the Stars Champion
Deidre Downs, Miss American 2005
Fun Fact The "It's On Us" national campus campaign against sexual assault was brought to the University of Arkansas by a former Alpha Chi Omega, Delta Rho Chapter president. Each year, Greek Life hosts an "It's On Us" week to open up the conversation on sexual violence - all thanks to one brave and passionate Alpha Chi Omega sister.
Contact Information
Josie Bates, Chapter President Emily Harrington, Vice President of Recruitment
Casey Butler, Vice Presudebt of Recruitment Information
Send Recommendation Letters to
We prefer that rec letters from alumnae be done electronically either through the national website (alphachiomega.org) or through our chapter website (alphachiarkansas.com). They can also be emailed to Casey Butler at arkansasaxo.vpri@gmail.com.
Rec letters from alumnae are not required, but at least one letter is strongly encouraged. A PNM will not be penalized if they do not have a letter, but it can only help them.
Chapter Awards
2018 Seeking the Heights, best finance programming for large chapters in the nation
2017 Seeking the Heights, best ritual programming for large chapters in the nation
2018 Chapter Progress Award, one of the top 3 awards presented by Alpha Chi HQ every two years. Awarded for unprecendented chapter growth over a short period of time.
2018 Outstanding Chapter Advisor, presented by UA Panhellenic
2018 Greeks Give Back winner, presented by UA Greek Life