Alpha Chi Omega
Alpha Chi Omega
Delta Rho Chapter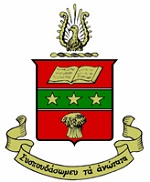 Nickname Alpha Chi, A Chi O
Philanthropy Domestic violence awareness, education, and prevention; locally the Peace at Home Women's Shelter
GPA
Spring 2017: 3.1828
Fall 2016: 3.088
Colors Scarlet Red & Olive Green
Flower Red Carnation
Symbols Golden lyre and pearl
Date Founded October 15, 1885 at DePauw University in Greencastle, IN
Established at U of A December 2, 1961. Recolonized November 10, 2012
Famous Alumnae
Dr. Condoleezza Rice, former Secretary of State
Aubrey O'Day, singer, songwriter, and actress
Tristan Rehn Sutter, the original Bachelorette
Melissa Rycroft, Dallas Cowboys Cheerleader and Dancing with the Stars Champion
Whitney Thompson, Season 10 America's Next Top Model winner and one of Lifestyle's " Most Influential Women"
Fun Fact Alpha Chi Omega was founded as a musical sorority, so our symbol the lyre, was the first musical instrument played by the Greek gods on Mt. Olympus.
Contact Information
Megan Mikkelsen, President
Chattin Cato, VP Recruitment
Send Recommendation Letters to
Rec letters from alumnae can be done electronically either through the national website or through our chapter website. They can also be sent through email to axocribark@gmail.com.
Chapter Awards
2016 Football Pep Rally - 1st place
2016 Greek Stroll - 2nd place
Greeks Going Green award 2015
Salvation Army's Kettle Bell Ringing Competition, Spirit Award 2015
Homecoming 2015 - 4th Place Overall:
Food Drive - 1st Place
Color Those Hogs 5K - 3rd Place
Dickson Street Parade - 3rd Place
Pep Rally - 4th Place