Alpha Chi Omega
Alpha Chi Omega
Delta Rho Chapter
722 W. Maple Street
Fayetteville, AR 72701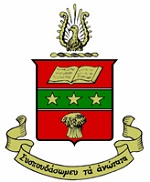 Nickname Alpha Chi
Philanthropy Domestic Violence Awareness
GPA
Spring 2021: 3.465
Fall 2020: 3.394
Colors Scarlet Red & Olive Green
Flower Red Carnation
Symbols Grecian Lyre
Date Founded October 15, 1885 at DePauw University in Greencastle, IN
Established at U of A December 2, 1961. Recolonized November 10, 2012.
Famous Alumnae
Dr. Condoleezza Rice, second female and first African American US Secretary of State
Alyson Hannigan, actress in How I Met Your Mother
Melissa Rycroft, Dallas Cowboys Cheerleader and Dancing with the Stars Champion
Meredith Monroe - American actress, best known for her roles in Dawson's Creek and Criminal Minds
Fun Fact The "It's On Us" national campus campaign against sexual assault was brought to the University of Arkansas by a former Alpha Chi Omega, Delta Rho Chapter president. Each year, Greek Life hosts an "It's On Us" week to open up the conversation on sexual violence - all thanks to one brave and passionate Alpha Chi Omega sister.
Contact Information
Lauren Restino, Chapter President
Amelia Reynolds, Vice President
Keeli Robertson, Recruitment
Send Recommendation Letters to
Alpha Chi Omega's recommendation process is 100% online at www.alphachiomega.org. Letters of recommendation are to be submitted on the Alpha Chi Omega Headquarters website by an alumna. We highly recommend at least one letter of recommendation. Paper recommendations will be accepted, but to ensure timely receipt, online recommendation are preferred.
Macie Hendrix
722 W. Maple Street
Fayetteville, AR 72701
Email: arkansasaxo.vpri@gmail.com
(This information was updated on 3/25/2021.)
Chapter Awards
2020 Greek Sing Champions
2018 - 2019 Award of Excellence
2018 and 2019 Greeks Give Back Award
2018 - 2019 Panhellenic Spirit Award
2018 Youth in Philanthropy Award