Panhellenic Recruitment
Fall 2018 Sorority Recruitment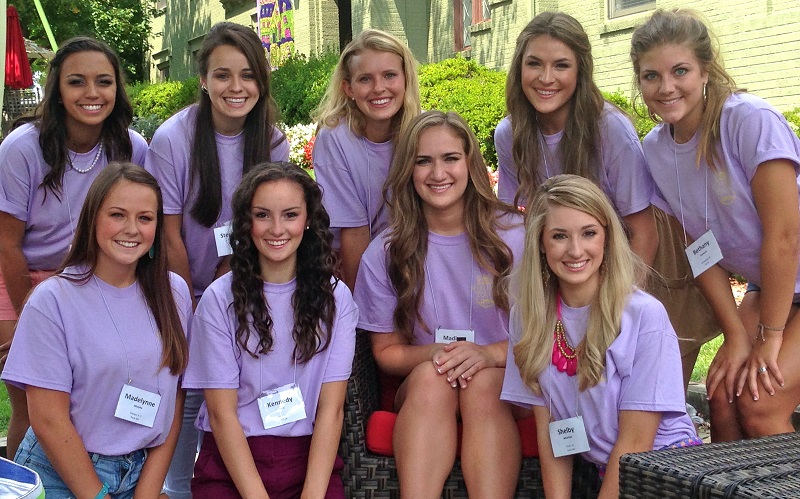 Panhellenic recruitment offers an opportunity to meet chapter members and peers, while learning what each sorority has to offer. Throughout the process, Recruitment Counselors (Gamma Chi's) will answer all questions that may arise while participating in recruitment. Participating in the recruitment process does not require a person to join a chapter, but enables her to explore and learn more about the campus and Greek community. This is a great way to meet new people and find out about different ways to get involved on campus. This process is intended to be a positive, fun, and enriching experience for everyone who participates.
Fall 2018 Schedule of Events
Early move-in:
Thursday, August 9 (only specific campus locations will be available)
Friday, August 10 (all campus locations available for Sorority Recruitment move-in)
NOTE: Students who arrive on Thursday, August 9 will be charged a $60 early move-in fee (this fee is separate from the Recruitment Registration fee) and the fee will be billed to the student's UAConnect account. Students who arrive on Friday, August 10 will be charged a $30 early move-in fee (this fee is separate from the Recruitment Registration fee) and the fee will be billed to the student's UAConnect account.
Beginning in June, once students have registered for Sorority Recruitment, you will receive an email from University Housing that will allow you to pick an Arrival Time for one of the two dates above (August 9 or 10).
University Housing requests that students participating in Sorority Recruitment DO NOT pick an Arrival Time in the General Population student arrival time selection process, but to only use the Sorority Recruitment Arrival Time selection process. Arrival Times can be selected through the Student Housing Contracting Portal once Greek Life has notified University Housing that you are officially participating in Sorority Recruitment. All University Housing students participating in Sorority Recruitment are required to select an Arrival Time for move-in.
Sorority Recruitment:
Friday August, 10 - Recruitment Orientation - Check-in begins at 5:45 pm
Saturday, August 11 - Friday, August 17 - Formal Recruitment.
Saturday, August 18 - Bid Day, 10:00 am at Chi Omega Greek Theater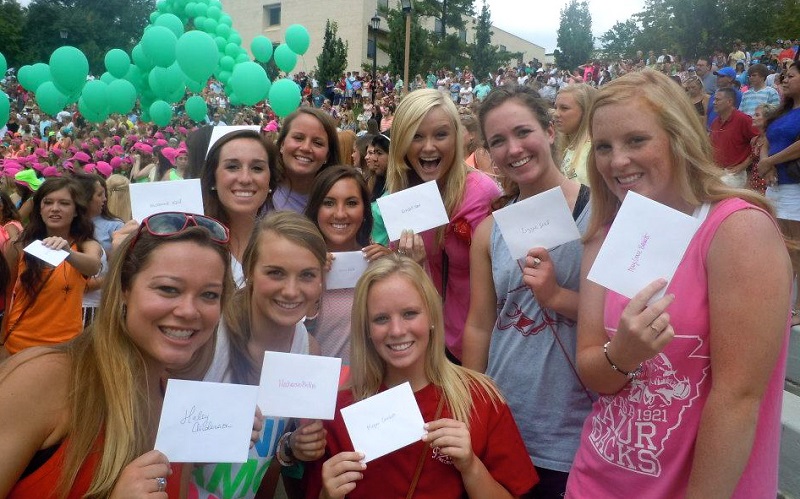 How To Register:
Please read the following instructions before completing your online application.
1. Online Registration - Registration will open on Friday, June 1, 2018!
NOTE: SAT and ACT scores are required fields. If you did not take the SAT, put "0" for your score, and further down the form in the "Additional Information" box, type "I did not take the SAT."
2. Fill out the online application and attach a digital picture of yourself such as a Senior picture.
3. Pay the non-refundable application fee online after you complete your online application. The Recruitment fee is $220.00 if you register June 1 through June 30. On Sunday, July 1, the Recruitment fee increases to $230.00. The deadline for Recruitment registration is Sunday, July 15, 2018 at 11:59 pm CST.
OR mail your registration fee to the following address:
Office of Greek Life
1 University of Arkansas c/o Panhellenic Council
Walton Hall 101 Fayetteville, AR 72701
* Please make checks or money orders payable to Panhellenic Council. We're sorry, but we do not accept cash as a form of payment.
** Sorority applications will not be completed until the application fee is received.
4. Read the Panhellenic Recruitment Rules.
5. Information about where to meet for Recruitment Orientation in August will be emailed to you before Recruitment begins.
***Please note: Although you may register with your Local Alumnae Panhellenic Association for assistance with Letters of Recommendation, please keep in mind that you MUST register with the University of Arkansas Panhellenic Council to be considered eligible to participate in Recruitment 2018, including completing our Official Panhellenic Recruitment Application online (#1 above), as well as submitting a payment. The last day to register is July 15, 2018 at 11:59pm CST.
If you do not receive an email confirmation stating you have registered with the University of Arkansas Panhellenic Council immediately upon completion of your online registration form and submission of payment, all potential new members are encouraged to contact our office at gogreek@uark.edu.
6. See More Information About Recruitment regarding Letters of Recommendation, Chapters, a sample resume, information for parents, and FAQ's.
2018 Look Book coming soon!
GO HOGS! GO GREEK! GO HOGS!
Follow Us:
Panhellenic Blog
Tweets by @UarkPanhellenic
Instagram
Questions or Concerns: If you have any questions or concerns, please e-mail us at gogreek@uark.edu or call 479.575.5001