Phi Delta Theta
Phi Delta Theta
Arkansas Alpha Chapter
208 N. Stadium
Fayetteville, AR 72701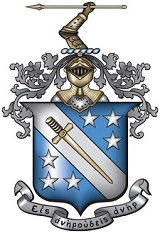 Instagram: @arkansasphidelt
Nickname Phi Delt
Philanthropy Tommy May ALS Banquet
GPA
Spring 2022: 3.186
Fall 2022: 3.162
Mascot Owl
Colors Argent and Azure
Date Founded December 26, 1848
Established at U of A December 26, 1948
Famous Alumni
Skip Rutherford
John Tyson
Eddie Drilling
Craig Leipold
Stephen Jones
Interesting Fact Arkansas Alpha is the largest Phi Delta Theta chapter in North America.
Contact Information
Satchel Harris, President pdtpres@uark.edu
Josh Beyer, Vice President pdtvp@uark.edu or jbeyer@uark.edu
Jackson Leichner, Recruitment Chairman pdtrush@uark.edu or jkleichn@uark.edu
Semester Costs to the Fraternity (prices subject to change)
In House: $7,000*
Out of House: $1,200
New Member: $1,300
*Phi Delta Theta is a University-managed facility. This figure includes University Housing costs, which are charged separately on the student's account.
Chapter Awards
Most Outstanding UA President - 2015
National Gold Star Award 2015 & 2016