Interfraternity Recruitment
Interfraternity Recruitment
IFC Fall 2017 Recruitment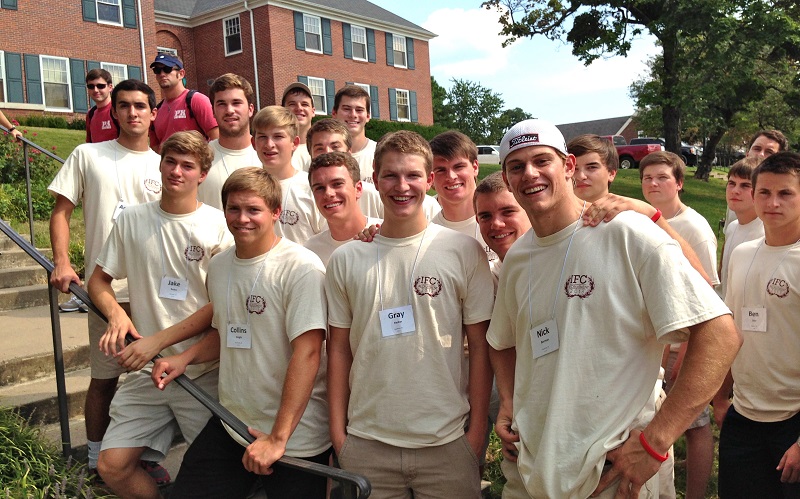 Interfraternity Council recruitment offers an opportunity to meet chapter members and peers, while learning what each fraternity has to offer. Throughout the process, Recruitment Counselors (Rho Chi's) will answer all questions that may arise while participating in recruitment. Participating in the recruitment process does not require a person to join a chapter, but enables them to explore and learn about the campus and Greek community. This is a great way to meet new people and find out about different ways to get involved on campus. This process is intended to be a positive, fun, and enriching experience for everyone who participates.
How To Register
1. A Minimum high school or college cumulative GPA of 2.5 is required in order to participate in recruitment.
2. Online Registration - Registration is now open! Fill out the online application and attach a digital picture of yourself such as a senior picture. NOTE: SAT and ACT scores are required fields. If you did not take the SAT, put "0" for your score, and further down the form in the "Additional Information" box, type "I did not take the SAT."
3. Pay the non-refundable registration fee online. The Recruitment fee is $115.00 if you register through Sunday, August 20. On Monday, August 21, the Recruitment fee increases to $125.00. The last day to register for IFC Recruitment is Wednesday, August 23, 2017 at 11:59 pm CST.
To pay online by credit card (Visa, MasterCard, or Discover) follow the link after the online registration.
OR
Mail a check or money order made payable to Interfraternity Council. PLEASE DO NOT SEND CASH. You may mail fees to the following address:
University of Arkansas
Greek Life Leadership Center
ATTN: Interfraternity Council
Walton Hall 101
Fayetteville, AR 72701
Pre Recruitment Events
IFC Cookout -Tuesday, August 22 at 5:00 pm at The Gardens
IFC Meet the Chapters - Wednesday, August 23 at 6 pm Union Connections Lounge
IFC Recruitment Orientation - Thursday, August 24 at 7 pm Union Ballroom (Mandatory)
**Please note that bids are not guaranteed. So, you are strongly encouraged to meet as many chapter members as you can throughout these events, including the entire recruitment process, as well as keeping an open mind.**
Recruitment Dates
Formal Recruitment - Friday, Saturday and Sunday, August 25-27, 2017 and Friday, September 8, 2017
Bid Day - Saturday, September 9 at 10:00 am Greek Theater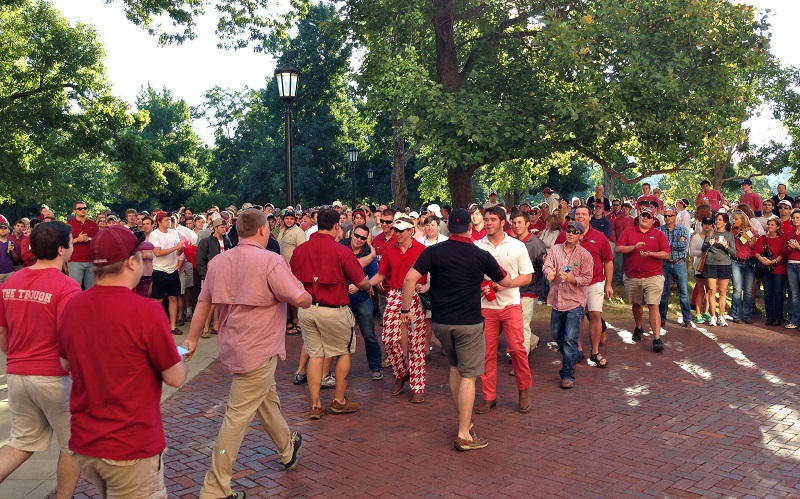 Follow Us:
Questions or Concerns All potential new members must attend their academic classes, labs, or drills as scheduled during IFC Recruitment. Please inform Greek Life staff of any academic requirements that coincide with these scheduled Pre-Recruitment and Recruitment events. Recruitment is not an excuse to miss any classes! If you have any questions or concerns, please e-mail us at gogreek@uark.edu or call 479.575.5001